Grimsby woodland burial ground to be created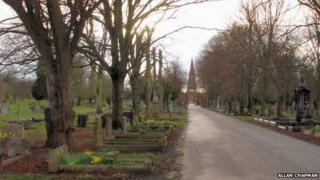 A woodland burial ground is being created to offer a "natural alternative" to conventional burial and cremation, a council has said.
The site, at Scartho Road cemetery in Grimsby, will open in the summer after a new car park and path are built.
North East Lincolnshire Council said it would be the first in the county.
There will be no headstones or markers allowed on the burial plot, but the location of the graves will be registered on a plan of the site.
Labour councillor Ray Oxby, responsible for the environment, said: "People have made choices throughout their lives about how they want to live, and their own beliefs, and there's no reason that should stop when they are no longer with us.
"We believe this will provide a peaceful area where people will be able to quietly reflect as well as remember their loved ones."
Mr Oxby added that only environmentally-friendly coffins would be allowed, such as those made from natural wood, wicker or cardboard.