Airline axes Danish flight link with Humberside Airport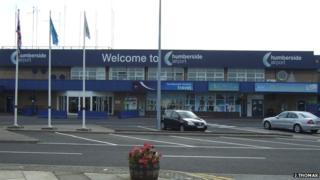 Flights from Humberside Airport to Denmark have been been scrapped after just six months.
Scandinavian Airlines launched the route in October to strengthen the Humber region's renewable energy links with Scandinavia.
The news comes in the week plans were announced to invest £310m in two wind turbine factories in Hull and Paull, East Yorkshire.
But the airline cited poor passenger numbers for the decision.
Flights will cease from the airport to Copenhagen on 6 April.
Hans Dyhrfort, from the airline, said: "Unfortunately, passenger demand for the route was not as high as anticipated, which made it unsustainable to continue flying from Humberside."
Kurt Christiansen, honorary Danish consul for Lincolnshire, said the flights were inconvenient.
He said: "The primary airport in Denmark is Billund. To go from Humberside Airport to Copenhagen and then to Billund I would have to stay overnight, then get up early to go to Billund."