Coastal cash for Bridlington Leisure World and Hull projects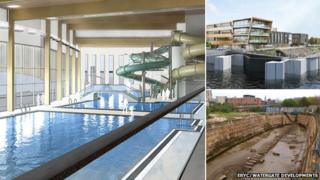 A £22m leisure development on the East Yorkshire coast has been awarded £2.1m by the Coastal Communities Fund.
Work has already started on Bridlington's Leisure World, which is due to be completed by autumn 2015.
A new digital innovation centre and a project to create jobs and provide business support in Hull also secured money from the government fund, aimed at boosting deprived seaside areas.
More than 50 projects across the UK have been awarded a share of £27.7m.
'Drive economic growth'
Conservative councillor Stephen Parnaby, leader of East Riding of Yorkshire Council, said: "Securing this funding is great news. We are starting to see the early stages of this exciting project come together."
The Goodwin Development Trust has been given £404,187 to expand its business start-up service which chief executive Peter McGurn said was crucial to its "continuing efforts to tackle poverty and drive economic growth" in Hull.
Watergate Developments Ltd was awarded £300,000 to help develop an abandoned dry dock in the city.
Part of the development will be a "Centre for Digital Innovation" providing office space for digital businesses, while planning permission has been granted to turn the dry dock itself into a sunken amphitheatre.
Chief Secretary to the Treasury Danny Alexander said: "This is government money getting behind some brilliant ideas to grow the economy in Hull."