J Arthur Rank's Hull birthplace to be renovated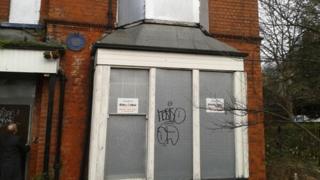 The derelict home in Hull where film producer J Arthur Rank was born is to be restored into affordable apartments.
The house on Holderness Road in the east of the city has been boarded up for a number of years.
Now Probe, a Hull-based not-for-profit company, is to restore the property as social housing.
Steve Alltoft, general manager of Probe, said the restoration would "restore some of the key features of the house to retain its heritage".
"We will aim to keep the Rank link in the design and build of the refurbishment," said Mr Alltoft.
"We don't know quite what that will be yet but we want to have those discussions with the Rank organisation."
Mr Alltoft said he expected the first tenants to move in to the property by the end of the year.
Rank was born into a family of Methodist flour millers in 1888.
He moved into film production as a way of promoting the Christian message.
The Rank Organisation grew to dominate British film production in the 1940s and 50s, operating the Odeon cinema chain and building Pinewood Studios.
He became Lord Rank in 1957 and set up a charitable foundation. He died in 1973.