Lewis Dale jailed for life for murdering grandmother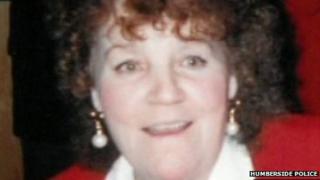 A teenager who murdered his grandmother and tried to kill his grandfather while high on drugs has been jailed for life.
Lewis Dale, 17, stabbed Irene Dale, 78, and her husband Allan, 80, while they were in bed at their home in Summergangs Road in Hull last April.
The jury at Hull Crown Court had been told how Dale behaved like the character Norman Bates from the Alfred Hitchcock film Psycho.
The teenager was told he must serve a minimum term of 17 years.
Dale, who lived with his grandparents, was convicted of murder and attempted murder earlier this year.
'Feel physically sick'
The court heard Dale attacked his grandparents, who had been married for 57 years, with a kitchen knife on 26 April.
Jurors were told he regularly used the drug mephedrone and could not remember attacking the couple.
Dale's father David, who is standing by his son and blamed the drugs for affecting his mind, had written to the judge before sentencing asking for leniency.
Speaking afterwards, he said: "I feel physically sick and I cannot believe it. I am just so sad."
Det Insp Martin Daley, of Humberside Police, said: "The judge has quite rightly given a substantial minimum sentence to Lewis Dale.
"The last year has been a very difficult time for the Dale family.
"Hopefully, this will now draw a line under the matter and they can start to move forward and rebuild their lives."