Hull City Council to cut jobs and services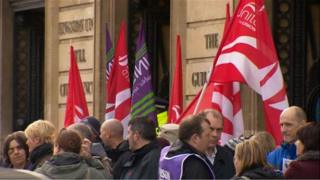 Hull City Council is to cut around 450 full time jobs over the next two years and increase council tax.
The job reductions alongside a tax rise of 1.95% were confirmed as part of the authority's budget for 2014/15.
The Labour-run council said cuts to its £411m budget were designed to help meet savings of £48m over the next two years.
Opposition councillors had urged the Labour group to freeze tax and said it had mismanaged the city's finances.
The council also approved plans to reduce the frequency of street cleaning, reduce museum opening times and axe the mobile library service.
Steven Brady, leader of the council, said: "When you are facing £48m in cuts over the next two year it is absolutely phenomenal and it is on top of £60m they [the government] have already taken off us.
"We are disappointed that we have to do this [increase tax] but it will bring us some money that will stop some services from closing all together.
"I think people do appreciate that you can only do so much."
The council, which has cut around 1,200 posts in the last three years, said it could not rule out compulsory redundancies as it looked to make further cuts.
Mike Ross, Liberal Democrat councillor, said the Labour group had mismanaged the city's budget and his party would have frozen the council tax.
"Yes they talk about the funding cuts from government but year after year whilst they have been running the council they haven't made the savings they promised to make," he said.
"If they had made those savings the financial position of the council would be so much better."