UK storms: Yorkshire woman trapped by falling tree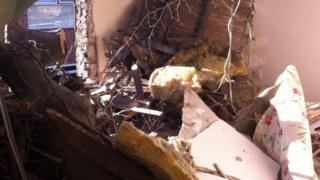 A 74-year-old woman was trapped by a falling tree when it crashed through the roof of a care home and pinned her to a chair.
The woman was watching television at the Riverhead Nursing Home in Driffield, East Yorkshire when part of a beech tree was blown into her room.
Humberside Fire and Rescue Service said the woman suffered only minor injuries.
Station manager Paul Hayden said the woman was "incredibly lucky" to escape serious injury.
"She was very distressed when we arrived," said Mr Hayden.
"The crews gave her trauma care at the scene and we removed the rubble and then extracted the lady from the room."
The service said it dealt with a number of wind-related incidents.
In all there were about 100 calls to emergency services in East Yorkshire and Lincolnshire during the storm.
A woman was injured in Grimsby when a tree was blown onto her van in Welholme Rd.
In Hull, a tree was blown over, destroying a telephone box and Beverley Road baths' pool and upstairs gym were closed due to storm damage.
The Humber Bridge and the bridge over the River Ouse carrying the M62 motorway were both closed to all vehicles for a period on Wednesday evening.
Wind speeds of 85mph (136km/h) were recorded on the Humber Bridge, leading to its closure for only the second time in 20 years, according to the Bridgemaster Peter Hill.
At Plant Raisers Ltd in Howden, East Yorkshire, the firm estimated £50,000 damage was caused when a cycle shed was lifted up and deposited on the roof of a commercial greenhouse.
Train services to and from Hull were suspended following the closure of the line at Selby, North Yorkshire.