Row over Humberside Police tax rise plan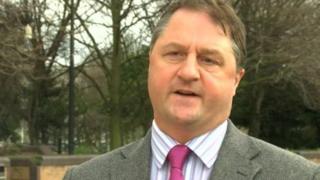 Plans by the Humberside Police and Crime Commissioner to raise its share of council tax have been criticised by the chairman of his own police panel.
PCC Matthew Grove said a 1.99% increase in the police precept was essential to "lessen reductions in police officers".
However, the police and crime panel, which scrutinises the commissioner's work, voted against the rise.
Panel chairman David Rudd said the proposed hike was a "macho-type proposal which is not needed at all".
Mr Rudd, who is also a Conservative councillor on East Riding of Yorkshire Council, claimed the increase was about Mr Grove asserting his independence.
"I think it is just a way of saying 'I am my own man'", he said.
'Play games'
"I am the commissioner. I will do as I think. I won't listen to the government, I won't listen to the panel I won't listen to anyone."
Mr Grove claimed that a public survey he commissioned showed that 75% of the public supported the tax rise, which he said equated to 5p a week extra for an average council tax payer.
"I am answerable to the public not to the panel", said Mr Grove.
"The responsibility that I have to take charge of the police service in this area, to protect 920,000 people, I don't play games with that."
Although the panel voted five to four against the increase, the commissioner can still impose the new precept.