Hull memorial service for Gaul trawler crew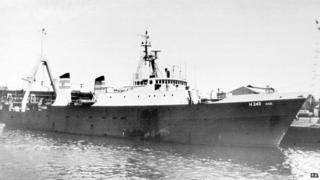 A memorial service has taken place to mark 40 years since a fishing trawler sank off the coast of Norway.
The Hull-based Gaul had 36 men on board when it went down on 8 February 1974 but only four bodies were found.
Hundreds of people gathered on Saturday at the Bullnose, at St Andrew's Quay, in Hull.
The Gaul's bell, recovered from the wreck in 1998, was also sounded at the 25th annual Lost Trawlermen's Day service on Sunday.
The memorial service was organised by Hull's Royal Antediluvian Order of Buffaloes (RAOB), a benevolent society.
Provincial grand secretary Ian Kemp said: "We were approached by a group of ex-trawlermen who asked us to organise a service exactly 40 years to the day since the Gaul went down.
"Some families have totally accepted [the crew members' deaths] and some haven't. That is something that is very personal to each family."
Flooded hold
Sunday's Lost Trawlermen's Day service was held to remember more than 6,000 trawlermen lost at sea, but organisers said this year it would be focussing on the Gaul.
The service took place near the Sailmakers' Arms Pub by the River Humber.
The wreck of Gaul was not found until 1997, leading to years of speculation that it was carrying out spying missions and was seized by Russia.
But an inquiry in 2004 concluded the ship sank because its hold became flooded during a storm.
In December Humberside Police said tests would be carried out on human remains of up to 10 people found buried beneath rocks on the Rybachy peninsula in Russia.
But the Foreign and Commonwealth Office (FCO) said at the time there was "nothing substantive" to link the bodies to the Gaul.