Burton Fleming and Kilham: £700,000 flood repair work begins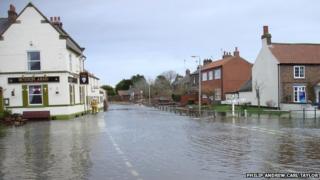 A council has paid out £700,000 for repairs in two East Yorkshire villages after flooding caused serious damage.
Bridges and roads in Kilham and Burton Fleming were damaged in December 2012.
The East Riding of Yorkshire Council said none of the money had come from central government.
Councillor Chris Matthews, responsible for flood response, said: "We're reconstructing roads, it's a lot of money. These are major works, not just patching up."
Mr Matthews said initial repairs during flooding had already cost the council £220,000.
In Burton Fleming, repairs will be made to West Lane, Hunmanby Road, Front Street, Penny Lane and Argham Lane, at a cost of £180,000.
In Kilham, repairs will be made to Middle Street, Beech Close, West End, North Back Lane, Church Street, Chapel Lane and Driffield Road, at a cost of £280,000.
Kilham and Burton Fleming also flooded in December 2012, when the Gypsey Race stream at Boynton burst its banks.