Humberside Fire Service to lose engines after budget cut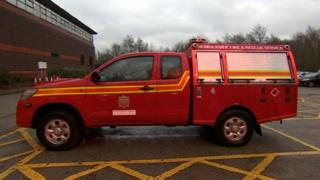 The number of fire engines will be reduced and some stations will be closed as part of a budget cut by Humberside Fire and Rescue Service.
Members of the fire authority approved the measures as part of £2.5m of savings designed to balance its budget.
A second engine will be removed from the East Hull station and all engines in the city will now be crewed with four firefighters instead of five.
The Fire Brigades Union said that would compromise the way fire crews worked.
Dave Collingwood, from the union said: "We have got sympathy with the fire authority who have had a difficult decision to make but we are a little bit shocked as to how the axe has fallen.
"The reductions in crews in Hull particularly will significantly compromise our standard operating procedures and how we work."
'Safer firefighters'
Traditional fire engines in Cleethorpes and Waltham in North East Lincolnshire will be replaced with two-person crewed "Small Fires Units".
Deputy Chief Fire Officer Dene Sanders claimed the replacement of full sized engines with smaller vehicles would not put lives at risk.
"They will only be attending house fires in order to provide an extra two firefighters at that incident," he said.
"We will still be sending two or three fire engines to house fires."
"We are committed to safe communities and safer firefighters, this will not be compromised by the proposals today."
Other cuts include the merger of fire stations in Grimsby, Peaks Lane and Cromwell Road.
The merger of the two Grimsby stations will also lead to the loss of one fire engine.
Humberside Fire Authority said it still needed to save "approximately £3m" by April 2016.
It said: "further options will need to be developed and taken to the authority for consideration".