Jo Jackson opens Olympic legacy pool in Bridlington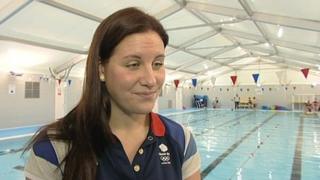 Olympic swimmer Jo Jackson has opened an Olympic legacy swimming pool in Bridlington.
The pool will remain at Bridlington Sports Centre for two years whilst the £20m redevelopment of Leisure World is carried out.
The 25m (82ft) temporary pool is one of nine training pools used by athletes at the London 2012 Olympic Games.
East Riding Council secured use of the legacy pool through a deal with Sport England and Total Swimming.
Neil Richardson, from Total Swimming, said: "Obviously as part of the legacy and the investment that has been made in the pools it makes sense to give that back to the country and enable people to use them after the games.
"To know that the community has not lost its pool and can continue swimming until the new facility is built is a great delight."
Miss Jackson, who won a bronze medal at the Beijing Olympics, ran a training session with local amateur swimmers in the new pool.
She said: "I have been with some of the swimmers and there are some fantastic swimmers here, some possible national champions.
"So the fact they have this facility prior to the new pool opening is brilliant."
A £2m national lottery grant towards the redevelopment of Leisure World has also been confirmed by Sport England.