Identity of Cleethorpes mystery man established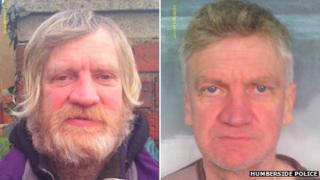 The identity of a man who lost his memory and was found sleeping rough in a seaside resort has been established within a day of a media appeal.
The man was found in Cleethorpes, North East Lincolnshire, in September but a search of police records found nothing.
After Monday's appeal Humberside Police said a relative had been in touch which led to him being positively identified.
While he has asked for full details of his identity to be withheld, officers revealed he is from South Yorkshire.
Identity disorder
Earlier, the man had told police his name was David or Tony Thorpe and that his date of birth was 5 October 1955.
He also told police he thought he was from Rotherham and could have links to Blackpool.
The appeal for help was prompted after the search of police and NHS records failed to reveal who he was.
The man also told officers he had dissociative fugue, a disorder which mental health charity Mind describes as a "temporary loss of identity" which may lead sufferers to assume a "different identity and a new life".