Baby-killing mum Natasha Sultan 'needed more support'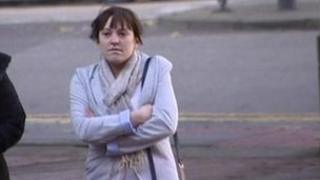 A mother who had post-natal depression when she killed her five-week-old baby should have been offered more help for her condition, a report has found.
Amelia Lilly Sultan-Curtis died from a blow to the head on 8 October 2012.
Natasha Sultan, 21, of Welton Grove, Hull, was given a three-year supervision order for infanticide.
A serious case review found the death could not have been prevented but extra support for post-natal depression would have been beneficial.
The review, commissioned by the Hull Safeguarding Children Board, said Sultan went to her doctor in September 2012, four weeks after her daughter's birth, and was prescribed anti-depressants having been diagnosed with depression.
It later materialised that Sultan did not take the full dose.
The report said: "It is noted that the GP identified some potentially supportive, protective factors.
"However, consideration was not given to sharing this information with the health visitor and no arrangement was made to follow up Adult N [Sultan]."
'Much-wanted child'
It added: "As the GP did not ask Adult N [Sultan] to return to assess the impact of the anti-depressants or contact the health visitor to request that she contacted Adult N [Sultan], the GP was not aware that she had not taken the prescribed medication."
During Sultan's sentencing last November, a judge at Hull Crown Court described how Amelia-Lilly was a much-wanted child but said it was "plain" that following the birth her mother suffered from post-natal depression and could not sleep.
Describing the events on that night in October, the judge said Sultan killed her daughter "by deliberately impacting her head upon a hard surface".
The court was told she claimed to have dropped her daughter accidentally, before eventually admitting that she caused the fatal fracture of the skull.
Paul Dyson, chairman of the board, said "local agencies and services could not have anticipated or prevented this tragic event".
However, he added: "The board believes that the offer of additional support would have been beneficial, following a diagnosis that Child L's mother (Sultan) had post-natal depression."
Mr Dyson said a number of recommendations had been implemented as a result of the review including better information sharing among health professionals.