Driving tests return to Hull after 'loud bang' disruption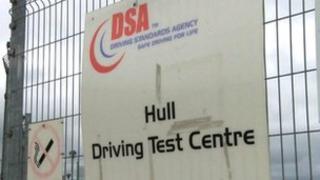 Driving tests are returning to Hull months after being suspended because of loud bangs at a nearby recycling plant.
In September the Driver and Vehicle Standards Agency said students would use other sites because of noise at the Lord and Midgley car recycling site on Reservoir Road.
Now a temporary site at Craven Park Training and Enterprise Centre on Preston Road will host the tests.
The tests will resume in the city on Monday 3 February.
Candidates had to travel 10 miles to Beverley for car tests and bikers took the off-road module of their tests at Scunthorpe, about 18 miles away and on the other side of the River Humber.
Noise reduction plan
Making its original decision in September the agency said it had to safeguard staff, instructors and candidates.
Lord and Midgley had said the plant was safe and it was installing additional machines to reduce noise.
The Health and Safety Executive said it was aware of "issues" at the car recycling plant and was carrying out an investigation.
Antony Whittaker, manager of the Lord and Midgley firm, part of the Morley Waste Traders, Yorkshire Scrap Metal Processors group, said a new piece of plant had been ordered, costing £1.4m, to reduce the noise.
The Driver and Vehicle Standards Agency said it hoped to eventually restart tests at the original site.
Alastair Peoples of the agency said: "We want to provide the best possible service for all our candidates, and this includes making sure that people can take their test at a convenient location.
"We are very grateful for Hull City Council's assistance in providing us with a temporary test centre in Hull.
"We continue to be committed to provide car and motorcycle tests in the city and hope to return to the permanent Hull test centre as soon as possible"