Princes Quay A63 footbridge designs revealed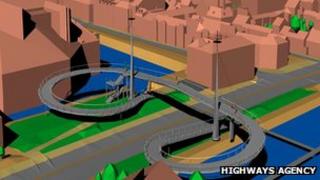 Five possible designs for a new footbridge over the A63 at Princes Quay in Hull have been published by the Highways Agency.
The bridge would link Princes Dock Street and the marina.
Extra funding for the bridge - part of the A63 Castle Road scheme - is needed for work to start, the agency said.
The start of construction on the full scheme is subject to development consent and consultation with residents, Hull City Council said.
Clearance and archaeological investigations could begin in autumn 2015 with construction beginning in 2016 for about three years, according to the Highways Agency.
Councillor Martin Mancey, the council's portfolio holder for energy, said he "welcomed" the consultation but expressed concern about some of the designs.
"I do consider that one or more of the options will potentially add to the architectural offer in Hull, albeit with some amendments," he said.
"On the other hand, some are completely unacceptable in my view, as they do not meet the city's aspirations."