Hull tenants petition to keep 'over 55' flats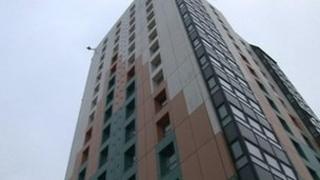 Residents in two Hull council-run apartment buildings have organised a petition calling on the council to keep restrictions on tenants' ages to over 55.
Hull City Council is reviewing whether to remove age limits on its housing.
The petition has been signed by 165 residents of Bayswater Court and Muswell Court in the east of the city.
It claims the possible changes are "causing anxiety and distress to older residents".
According to council documents, the age review was launched in November "in the light of changing demand as a result of government welfare reform changes".
The council said the review "will include consultation with existing tenants as well as other interested parties such as prospective tenants".
'Young families'
Freda Scruton , 71, said she moved into her Bayswater Court flat last 11 years ago.
"We don't want it spoiling with young families," she said.
"I don't want somebody next door to me blasting music out."
Another resident Mike Bickerstaff, 72, said: "It isn't a place for young people with families, with children.
"It's lovely, it's nice, it's quiet for people.
"The youngsters have their life, we have our life."