Reedness residents say homes are 'at risk' after tidal surge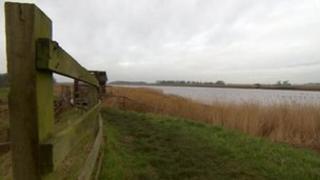 Residents in an East Yorkshire village which flooded last year say their homes are still at risk because flood defences are too low.
Around 100 properties were flooded in Reedness, near Goole, when the River Ouse broke its banks in the tidal surge on 5 December.
Homeowners say a stretch of bank around the village is too low and needs urgent reinforcement.
But the Environment Agency said the defences were structurally sound.
Resident Sharon Hart said confidence in the village has been "shattered" by the floods.
"It's never flooded here. Everyone's confidence in the village has been shattered, every time there's a high tide everyone is on alert," she said.
'Low spot'
The agency started making improvements to the banking at Reedness as early as 2000, but admitted "leaving an apparent low spot" along one section.
It said defences near the village varied in height because of "historical improvement programmes" and would look at making improvements.
An agency spokesman said: "It is hoped that during 2014, we will have decided on the highest priority locations for schemes to be undertaken in the next few years.
"We are looking at whether further work at Reedness can be one of the early schemes in the strategy."