Fatal crash victim Jennie Stone 'was a speed demon'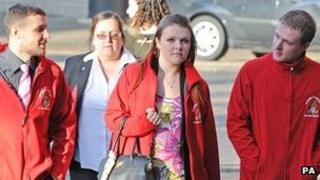 A woman accused of causing the death of her elder sister in a road crash told police her sibling was a "speed demon", a court has been told.
Jennie Stone, 28, died when her blue Peugeot hit a tree near Fraisthorpe, East Yorkshire, on 18 February 2013.
Rosie-Ann Stone, 21, was overtaking a lorry when she collided with her sister's car which was overtaking the same vehicle, Hull Crown Court heard.
Ms Stone, from East Yorkshire, denies causing death by careless driving.
'Twigged instantly'
Ms Stone told the jury how she was in her own car in a queue of traffic behind a slow-moving lorry when she pulled out to overtake.
She then felt a collision with another vehicle which "skimmed" her Vauxhall Astra.
She quickly realised it was her sister who was making the same manoeuvre but had approached from behind her car.
For a moment, there were three vehicles abreast in the road, the jury heard.
Moments later, her sister's car veered in front of the lorry and crashed into a tree, Ms Stone said.
Until she saw her elder sister, Ms Stone said, she had no idea she was behind her in the queue.
"I saw blue and I saw her. I saw her blond hair and I twigged almost instantly."
She described how her sister's car was travelling faster than hers and it pulled ahead.
"It suddenly shot across the road. I instantly thought the truck was going to hit her."
'Took a risk'
Ms Stone said she saw her sister's car hit the tree and stopped her vehicle.
"I was running back down towards the tree to get her. I saw her in the car. I was screaming.
"I tried to get near her and some people took me away."
Earlier, the jury heard how Ms Stone told police in an interview that her sister took risks as a driver and had been involved in a number of minor accidents.
"I knew she was a speed demon. I knew she was comfortable taking risks in her vehicle," she told officers.
Her sister "took a risk and misjudged the situation", Ms Stone added.
In a statement read to the court, her mother, Angie, said Jennie was "bubbly" and "family-orientated" and "lived her life" for her son but that her daughter's driving had made her anxious.
"She used to drive very fast and erratically everywhere," she said.
However, Rosie-Anne was a "safe and careful driver," she said.
The trial continues.