Humber Bridge could get City of Culture makeover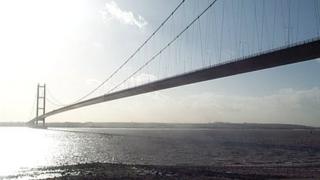 Plans have been announced to boost tourism at the Humber Bridge as part of Hull's City of Culture event in 2017.
East Riding of Yorkshire Council hopes to collaborate with the bridge board on developing a "Humber Bridge Experience" visitor attraction.
The council's head of culture Darren Stevens said the idea was to "celebrate" the bridge.
A tourism consultancy firm has been hired to draw up a plan for the bridge and the surrounding country park.
Mr Stevens said the council was asking members of the public for ideas to incorporate into the scheme.
'Longest bridge'
"The experience for visitors is good, but it could be better," he said.
"We wanted to see how we could make that experience even better for local people and visitors."
He added: "It is an important symbol and a great icon for the area."
The bridge cost £150m to build and opened in 1981, linking East Yorkshire with Lincolnshire.
It has a span of 4,625ft (1,410m) and was the world's longest single-span suspension bridge for almost 20 years.
Labour councillor Phil Hogan, who proposed the plan, said the idea was still at the evaluation stage but had gathered "solid support".
He said that despite attracting more than 50,000 people a year the current visitor facilities were of a "very poor quality".
Mr Hogan said solutions included knocking down and renovating existing facilities, or redeveloping the whole site to include cycle ways and activity centres.
"But the minimum option will be that there will be a decent tourist information centre," he added.