Calls to remove disused Humber tidal plant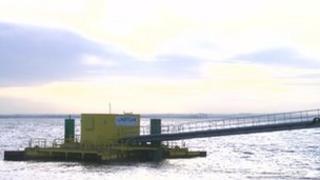 People in Hull have called for a disused tidal power generator to be removed from the Humber.
The Neptune Proteus device was installed in 2012 but, a year later, the project was scrapped after the firm behind it went into liquidation.
Now residents of Victoria Dock want to have the generator taken away.
Phillip Gittens said: "Before that came we looked on to the river and it was a nice view. Now we are looking on to that monstrosity."
Removal 'promise'
The 150-tonne Neptune was deployed in January 2102 to generate electricity for the aquarium The Deep.
However, in February 2013 Neptune Renewable Energy said there was "no commercial value in pursuing the project any further" and the company went into liquidation.
Gary Wareing, Drypool ward councillor, said the device was due to be in place for three years before being removed.
He said "We were promised, when it first went in, that the area would be returned to the state it was before it went in and that is what we want to see happen."
Under the Energy Act 2004 the Department of Energy and Climate Change (DECC) has responsibility for decommissioning the device.
A DECC spokesman said the department was in "active discussions" over the future of the generator.