Bridlington Leisure World closes for £20m redevelopment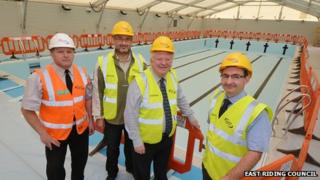 A leisure centre in East Yorkshire has closed its doors to the public so that a £20m refit can begin.
East Riding Council said work on Bridlington Leisure World, on the seafront, should be finished by summer 2015.
A replacement pool at Bridlington Sports Centre in Gypsey Road is due to open on Monday.
Under the £20m plans approved in October, Leisure World will have three new pools.
The council said it secured use of the 25m-long Olympic Legacy pool at Bridlington Sports Centre through a deal with Sport England and Total Swimming.
The council said the current building, which opened in the 1980s, had reached the end of its economic life.
"Its fabric and infrastructure is deteriorating, it is inefficient and has increasing utility, repair and maintenance requirements," the council said.
"The current layout is unsuitable and it shares the site with the disused 3B's theatre which creates poor access arrangements and limits parking."
Gym equipment and exercise classes from Leisure World have also relocated to the sports centre.