Decision on York-Beverley rail route 'short-sighted'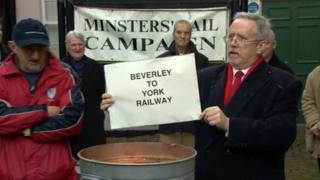 Campaigners lobbying to reopen the disused Beverley to York railway line have criticised its omission from a new 20-year development plan.
They have called the decision by East Riding of Yorkshire Council "short-sighted".
But the authority responded by saying it did not believe funding for the line was likely within the life of the development plan.
The line was closed in 1965 as part of the Beeching Report cuts.
Campaigners burnt a petition outside the council offices in Beverley ahead of the meeting in protest at the decision.
George McManus, chair of the Minsters Rail campaign, said they feared that with council protection removed "houses will start to be built and costs of reopening the line will escalate and it will never ever reopen".
"Without the support of the council there is nowhere for our campaign to go," he added.
The Conservative-run authority said it was unlikely funding for the project would be forthcoming within the next fifteen years and it did not want to hinder economic growth in the region.
Councillor Symon Fraser said: "In some instances the line goes across perfectly legitimate development land around towns in the East Riding.
"We shouldn't prevent the organic growth of those towns for something that may or may not be feasible in the future."