Hull road reopens after Christmas closure for bridge work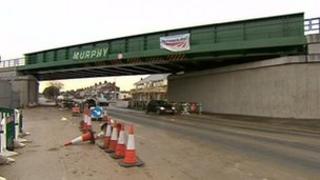 A busy Hull road has reopened after being closed over the Christmas period to allow the installation of a new railway bridge.
Part of Spring Bank West was shut for three weeks as part of a £3.2m improvement scheme by Network Rail.
Shop owners in the area had complained about the work being scheduled over the holiday period, claiming it would cost them business.
Network Rail has apologised for the "disruption and inconvenience".
The company said work had been delayed after the line was used for a rail diversion scheme after a landslip in South Yorkshire disrupted services to Hull over the summer.