Fundraisers take sea dip in aid of Flamborough pre-school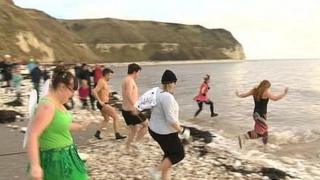 Dozens of people have taken a plunge into the North Sea near Bridlington to raise money for a village pre-school.
It is the fifth time the annual Boxing Day dip has taken place in Flamborough with the hope of raising £2,000 towards school activities.
Organisers said each year the event had grown in popularity and had become part of the community's festive calendar.
Former pupil Hannah Emmerson travelled from Australia to take part and said her feet were "very cold".
The event was supported by members of Flamborough's lifeboat crew and the Longswood dancers.