Plans to revitalise River Hull headwaters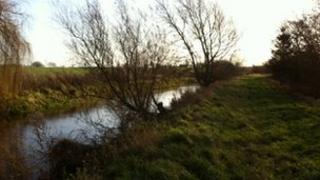 A wildlife charity is cleaning up the source of the River Hull in East Yorkshire.
Yorkshire Wildlife Trust (YWT) is reviving the wetlands area near Driffield where springs form chalk streams that become the river.
The trust plans to restore five miles (8km) of waterways that have been "damaged or inappropriately managed over the years".
The charity is asking for volunteers to help with the project.
YWT regional manager Jon Traill said the three-year "Crystal Clear" project aimed to restore more than 96 acres (39 ha) of wetlands.
"Chalk streams are wonderful places to watch wildlife," said Mr Traill.
"Brown trout and grayling can be spotted hiding amongst aquatic plants that also provide resting places for dragonfly and damselfly and food for small mammals like water voles.
"Kingfisher and reed bunting will make their homes within the river bank and adjacent wetlands."
The River Hull runs for more than 20 miles (32 km) through East Yorkshire until it reaches the Humber Estuary at the port of Hull.
Its headwaters area is home to the UK's most northerly chalk streams, a geographical feature that is most commonly found in southern England.