Hull hospital in trial of new breast cancer treatment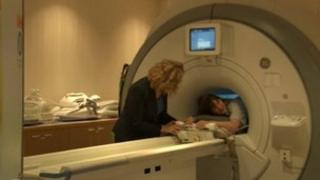 A hospital in Hull says it is the first in the UK to test a new form of treatment for breast cancer.
Hull Royal Infirmary is using a magnetic resonance (MR) scanner to locate tumours and then use ultra-sound beams to destroy them.
It is hoped the technique will allow patients with smaller tumours to avoid surgery.
The majority of the money to pay for the £450,000 cost of the equipment has been raised by a local charity.
Professor Lindsay Turnbull, scientific director of MR investigations at the University of Hull, described the research as "hugely exciting".
Destroy cells
She said the technique had been used for the treatment of fibroids in the uterus, but the Hull study was the first outside Japan to use it to treat breast cancer.
"Normally a patient who presents with a small breast tumour will undergo a lumpectomy, so the tumour would be removed," said Prof Turnbull.
"What we would like to do in the future, once we've done our pilot study work and some research, is to treat the tumour where it is, but actually then for the patient not to proceed to surgery."
The technique relies on focused ultrasound beams to heat up and destroy cells in the tumour and the surrounding area in a process known as sonication.
The specialist MR scanner allows real-time monitoring of the treatment.
Prof Turnbull said the first stage of the trial was expected to run for two years.