'Fruitless' search for missing River Trent sailor in Lincolnshire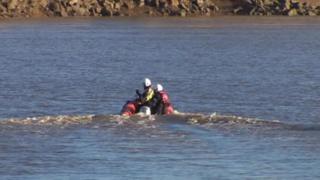 The search for a sailor who fell overboard in the River Trent during bad weather has been scaled down.
Coastguard search units, Humberside Police divers and lifeboats scoured a large area to find the 45-year-old man.
Glenn Ramsden, of Humber Rescue, said it had been "fruitless" but police and coastguard searches would continue.
The missing man's vessel was moored at Gunness, in North Lincolnshire, when he fell on Wednesday and initial searches had been hampered by bad weather.
"Our crews are tremendously disappointed and have been out there for many hours", Mr Ramsden added.
Tangled in ropes
Humber Rescue, an independent lifeboat based at Hessle on the Humber estuary, had sent their volunteer-crewed rescue boat to aid the search.
A spokesman for Humber Coastguard said the crewman, who is believed to be Russian with a wife and child, was thought to have become tangled in ropes.
Watch manager Mike Puplett said: "A crewman from a ship called the Sea Melody which was tied up on the River Trent in North Lincolnshire was working on the upper deck with ropes and wires.
"We understand that while the vessel was moving from one jetty to another he got entangled in the wires and was pulled overboard into the River Trent and disappeared almost immediately from view."
The missing crewman is not thought to have been wearing a lifejacket but was wearing high-visibility clothing when he was last seen.