Bridlington storm water tunnel completed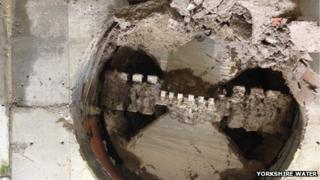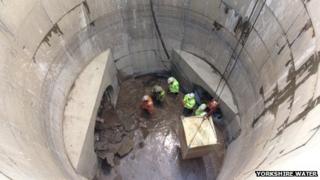 A 2,620 ft (800m) storm water tunnel to stop sewage overflowing into the North Sea has been completed.
It has taken 10 months for the tunnel in Bridlington, East Yorkshire, to be completed as part of Yorkshire Water's £40m project to improve water quality.
The company said a boring machine excavated about 8,000 tonnes of material from beneath the Palace car park through to South Beach promenade.
The 70-tonne machine, named Crystal, will now be removed using a crane.
'Even tighter standards'
The tunnel has been built to prevent a repeat of summer 2012, when South Beach lost its Blue Flag status after heavy rain caused sewers to overflow into the sea.
Claire Glavina from Yorkshire Water said: "At the moment when it rains heavily the sewerage system can overflow and then that untreated waste can get into the harbour, affecting the two beaches.
"So [the tunnel] provides a new route for that storm water."
The company is also building a new pumping station and coastal pipe to take excess rain water and high tide water more than half a mile out to sea.
Ms Glavina said: "Bridlington's two beaches are already of a great seawater quality, but there are some new European standards coming into play in a few years time and it's about doing what we need to improve the sewerage infrastructure to help those beaches meet even tighter standards."