Maintenance staff strike at Scunthorpe steelworks over pay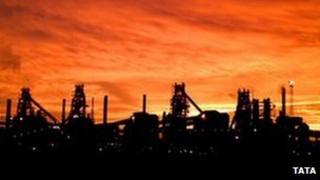 About 50 maintenance workers at Tata Steel in Scunthorpe have gone on strike after claiming they have not been offered a pay rise.
The contract staff, who are employed by a company called Tube City IMS, maintain the plant's furnaces.
Tata Steel said the stoppage, from 06:00 to 22:00 GMT on Tuesday, would not affect production at the site.
When contacted by the BBC, Tube City said it had no comment to make about the dispute.
Rob Morris, regional secretary of the construction union UCATT, said he hoped Tube City bosses would "come to their senses" and hold talks.
He said: "The company has failed to enter into sensible negotiations and as a result members overwhelmingly felt that they had no option but to take industrial action."
The union is planning another day of industrial action on 28 December.