Council tax relief for Hull flood victims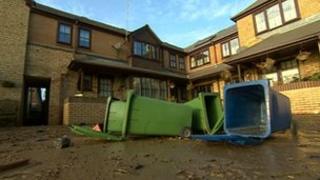 People affected by flooding during the recent tidal surge will be offered a reduction in their council tax, Hull City Council has confirmed.
A combination of high tides and strong winds caused the surge which breached flood defences along the east coast on 5 December.
The Environment Agency said the tide had been the highest since 1953.
The council said residents would be eligible for at least a 50% reduction in their council tax for up to a year.
Councillor Daren Hale, deputy leader of the council, said: "It is a difficult time for any residents or businesses whose property has been damaged by the flooding.
"By providing council tax and business rate exemptions we can offer some help to those affected."
People forced to move out of damaged homes will be able to apply for a 100% reduction for the duration they are out of their property.
Affected businesses will be eligible for exemptions in business rates depending on the impact on their ability to trade, the Labour-run council said.