Gaul sunken trawler: Test on bodies buried in Russia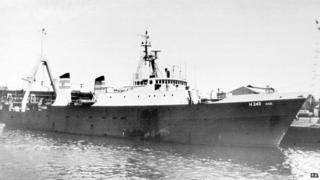 Tests are to be carried out on human remains found in Russia to see if they could be crew members from a sunken trawler, Humberside Police have said.
The Hull-based Gaul fishing vessel went down in 1974 in the Barents Sea off Norway with the loss of 36 men.
The remains of four men were recovered from the wreck in 2002, but no other bodies have been found.
Police said Russian authorities were working to identify a number of bodies buried on the Rybachy peninsula.
'Bodies washed ashore'
Assistant Chief Constable Alan Leaver, of Humberside Police, said: "The remains appear to have been found in 1974 or 1975 by local people and buried under rocks.
"We have absolutely no confirmation or evidence at this stage that the remains are those of crew members but we know this area is where bodies could have washed ashore.
"We have met with all the families of the crew members lost on the Gaul and will continue to provide them with information as it becomes available."
The Foreign and Commonwealth Office (FCO) informed the force of the discovery in September last year, but Mr Leaver said the force had waited until now to tell the crew members' families.
Karl Davis, whose uncle Sydney Broom was second mate on the Gaul, said the ship's loss had meant long-lasting consequences for his whole family.
"My mum was very close to him, it changed her life in a monumental way.
"The fact that he was snatched away from the family haunted her.
"It ate away at my nana and granddad, it contributed to their undoing really.
"My granddad went to sea all his life, he never forgave himself for the fact that his son was killed and he wasn't and he'd served in the Merchant Navy throughout World War 2.
"Nana clung to the hope for the rest of her days that he was alive somehow, she refused to admit that he was gone."
The Marine Accident Investigation Branch carried out surveys of the Gaul after the wreck was found in 1997, and the remains of James Wales, Maurice Spurgeon, Stanley Collier and Clifford Briggs were found in 2002.
An inquiry in 2004 concluded the ship sank because its hold became flooded during a storm.
A FCO spokesman said they were liaising with Humberside Police and Russian authorities but there was "nothing substantive" to link the bodies found in Russia to the Gaul, and there was "no indication yet that these are British".
"It is for the Russian authorities to determine the nationality of the remains, we have offered to provide assistance if requested," he said.