Public warned off Spurn Point after tidal surge damage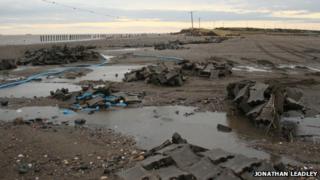 Visitors have been warned to stay away from an East Yorkshire nature reserve after Thursday's tidal surge destroyed the road.
Yorkshire Wildlife Trust (YWT), which manages Spurn Point peninsula, said the beach profile was considerably changed by the North Sea surge.
Spurn Point juts 3.5 miles (6km) out to sea at the mouth of the Humber estuary.
The Environment Agency said the North Sea tidal surge was the worst since January 1953.
YWT, which has owned and managed Spurn Point since 1960, asked the public not to visit while the damage is assessed and cleaned up.
Spurn Point is only 50m (164ft) wide at some points and is home to seabirds and other wildlife.
Sheep lost
Some of the reserve's Hebridean sheep were also washed away from an area which was thought to be safe from flooding.
"The force of the surge punched through the protective flood bank and inundated the area," a YWT spokesperson said.
"Some of the sheep were caught on the wrong side of a new creek that was formed in the wake of the tidal surge."
The YWT said other east coast reserves - Kilnsea Wetlands, Welwick Saltmarsh and Saltmarsh Delph - would be closed until further notice.
In September, the derelict lighthouse on Spurn Point was awarded a £470,500 lottery grant to convert it into a visitors' centre.