East Riding of Yorkshire Council backs Dogger Bank wind farm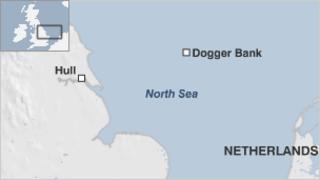 Plans to build one of the world's largest offshore wind farms have been backed by a Yorkshire council.
East Riding of Yorkshire Council (ERYC) planning committee voted in favour of proposals by developers Forewind for up to 600 turbines at Dogger Bank.
Located 77 miles (125km) off the East Yorkshire coast, Forewind claims it could generate enough electricity to power up to 1.8m homes.
Energy Secretary Ed Davey will make a final decision on the scheme.
Last month, plans for the 240-turbine Atlantic Array wind farm off the north Devon coast were shelved, after its developer said it "was not the right time" for it.
'Significant contribution'
It was planned to be about 10 miles (16.5km) from the north Devon coast, 14 miles (22.5km) from south Wales coast and 8 miles (13.5km) from Lundy Island nature reserve.
In a report on the Dogger Bank scheme presented to committee members, Alan Menzies, of ERYC, recommended they should not object to the proposal.
He said the project would provide "significant contributions to increased provision of renewable energy" and not have the visual impact of onshore schemes or those closer to coastlines.
Forewind has held public meetings around East Yorkshire as part of the company's consultation for the scheme.
It would connect into the national grid at an existing substation at Creyke Beck, near Cottingham, East Yorkshire, the developers said.
The world's largest operational offshore wind farm is currently the London Array, which opened in July and comprises 175 turbines.