Humber Bridge lane closures to bring disruption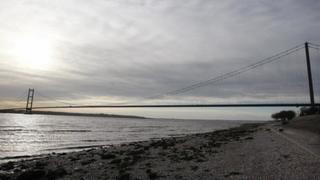 Further work to upgrade the Humber Bridge is to begin on Tuesday, with drivers being warned lane closures may mean they face disruption.
One lane will be closed southbound with a lane closure northbound in January. There will also be a reduced 30mph speed limit.
Work to replace four solid steel A-frames connecting the bridge deck to the towers started last month.
The lane closures will be in place for 40 weeks.
Bridgemaster Peter Hill said disruption would be kept to a minimum.
Bearings 'worn'
"It's a disruption to the normal traffic flow. People will have to be aware that they have to travel at the same speed as everyone else across the bridge."
Mr Hill said there would still be three toll points available which would help avoid delays.
He said: "This will only be reduced to two booths, or possibly one, at the quietest times during nights or weekends."
Mr Hill said the A-frames, which each weigh five tonnes, had to be replaced as the bearings had "become worn over time".
The bearings allow the A-frames and the 1,410m main span of the bridge to move according to the weather.
The project is being carried out alongside work to replace the Humber Bridge's toll system which began in July and has led to complaints about traffic delays.