No change on North Lincolnshire housing grant ban for smokers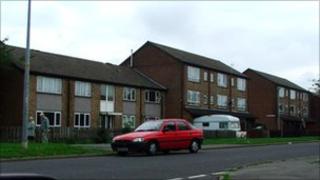 A council has said it will not change its policy on refusing housing grants to tenants who smoke, despite spending just 10% of the available budget.
North Lincolnshire Council is responsible for distributing government money to help people affected by the removal of the spare room subsidy.
Conservative councillor Rob Waltham said taxes should not be used to pay for tenants' "life choices".
Local Labour MP Nic Dakin described the council's attitude as "callous".
'Life choices'
The change in housing benefit rules was introduced in April and has been dubbed the "bedroom tax" by Labour.
Under the changes, 14% is deducted from housing benefit for people with one spare bedroom, and a quarter for two or more.
The Department for Work and Pensions (DWP) provides £25m per year in Discretionary Housing Payments to allow local authorities to provide support for tenants affected by the change.
The council said it had spent £26,500 out of an available £238,069.
The authority's payment ban also applies to social housing tenants who subscribe to satellite television channels.
Cllr Waltham, who is the chair of North Lincolnshire Council's health and wellbeing board, said housing officers asked tenants applying for the payments if they smoked or had a satellite TV.
"We all make life choices, whether we go to work, or we can or can't go to work," he said.
'Quite shocking'
"What we ask them to do is to reprioritise their spending."
"If their spending includes satellite television. If it includes smoking then what we say to you is we can't give you extra taxpayers' money to support you to continue to make those life choices."
Mr Dakin, the MP for Scunthorpe, said that many of his constituents were coming to him in distress over the council's rules
He said: "I find it quite shocking that the council are saying they're not going to use the money to support people if they happen to be in a contract for satellite TV, which they might have taken before the bedroom tax came in to effect, or they are smokers.
"It seems to me quite callous."
A DWP spokesman said that local authorities "were best placed to know the local need".
He added: "It's down to councils to decide how the money is distributed."