Jail for Hull 'underworld gangster' brothers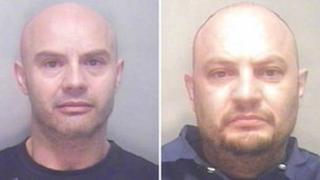 Two brothers described as "underworld gangsters" have been jailed for 20 years for offences including conspiracy to murder.
Loan shark Darren Wilson, 46, of Appin Close, Hull, was convicted of hiring a hitman to kill a man to benefit from his life insurance policy.
Brother Dean Armstrong, 40, of Coltman Street, was jailed for eight years for arson and drug offences.
Hull Crown Court heard the pair set up cannabis factories in city houses.
During the trial, the court heard a house in the city was firebombed twice in an attempt to force out the tenants to allow the brothers to use the property to cultivate cannabis.
Wilson was sentenced to four years for the conspiracy to murder charge.
He was jailed for a further eight years for conspiracy to commit arson and received a four-year sentence for cultivating cannabis.
'Mean character'
In a separate court hearing in June, Wilson pleaded guilty to seven counts of illegal money lending and two counts of money laundering.
The court was told he charged extortionate rates of interest in his money lending business and used profits to fund other criminal activity.
Judge Michael Mettyear said the brothers "operated as if they were underworld gangsters".
Det Sgt Ian Dobson from Humberside Police described Wilson as a "bully" and a "mean character".
"He could enforce threats with his organised crime group to cause extreme violence," he said.
"You think money lending is a small matter, but it was linked very closely and led to the hiring of a hitman to take out someone."