MP launches Humberside mail protest sticker campaign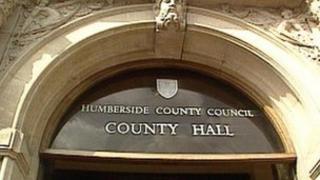 An East Yorkshire MP is urging people to return letters to the sender if the address includes the former county name of Humberside.
Graham Stuart has printed stickers with the slogan "I don't live in Humberside, It's East Yorkshire. Return to sender".
Mr Stuart claimed many of his constituents found the continuing use of Humberside "irritating".
The Royal Mail said it was consulting about whether to drop the name from its postal database.
The Conservative MP for Beverley and Holderness said he had been campaigning for many years over the issue and had recently tried to talk to Moya Greene, the chief executive of Royal Mail , but was refused a meeting.
Mr Stuart described the Royal Mail as "arrogant" and "out of touch".
'We'll keep going'
"We are going to send hundreds, then thousands, of letters back," he said.
"The Royal Mail will have to return to sender and we'll keep going until they listen.
"We are going to run a first class campaign and we are going to stamp this out."
Mr Stuart said the stickers were being paid for by the local Conservative association and people could get them by contacting his constituency office.
The county of Humberside was set up in 1974 and covered the north and south banks of the Humber Estuary.
It was abolished in 1996 and replaced by four unitary authorities.
The name is still used by the police and fire services, the local airport and the BBC local radio station and website.
Felicity MacFarlane from the Royal Mail said:" As we have stressed for a number of years, Royal Mail's Postcode Address File does not contain county names as they are not required for postal purposes.
"However, we do make a list of historical county names available to customers to reference if they wish though we don't encourage external organisations to use or rely on the county information."
She said the Royal Mail had just launched a consultation about whether to completely remove county names from the database.