Ten things you might not know about Hull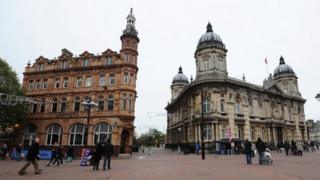 While Hull, which has just been named the UK's Capital of Culture in 2017, is well known for its white telephone boxes, the Humber Bridge and its connections with poet Philip Larkin, there is much more to the city.
Here are 10 things you might not know about Hull.
Civil War spark
Ye Olde White Harte pub on Silver Street in Hull is believed to have played a key role in the start of the English Civil War.
In the room now known as the Plotting Parlour, the decision was reputedly taken in 1642 to refuse Charles I entry to the town.
This sparked the first siege of Hull, which was the first major action of the Civil War.
Bligh's nemesis
The Bounty, skippered by the infamous Captain William Bligh, was built and launched in Hull.
Originally a merchant ship called the Bethia, it was built in the city in 1784.
In 1787, the Admiralty bought the ship for a voyage in the Pacific which, two years later, would see Captain Bligh cast adrift by his own mutinous crew.
Flying legend
Amy Johnson, the first female pilot to fly alone from Britain to Australia, was born in Hull on 1 July 1903.
In 1930, just two years after starting flying lessons, she completed an 11,000-mile journey alone in a single engine Gypsy Moth plane named Jason.
The pioneering pilot drowned on 5 January 1941 when the plane she was flying crashed into the Thames Estuary during rough weather.
Fantastic voyage
Daniel Defoe's famous fictional castaway, Robinson Crusoe, set sail from Queen's Dock in Hull on 1 September 1651.
As Defoe writes, it was a journey to remember from the very start: "The ship was no sooner out of the Humber than the wind began to blow and the sea to rise in a most frightful manner; and, as I had never been at sea before, I was most inexpressibly sick in body and terrified in mind."
Size matters
Not only is the George Hotel in Hull one of the oldest surviving pubs in the city, dating back to 1683, it also boasts what is claimed to be the smallest window in England.
Originally a coaching inn, its window - which is more like a slit in the wall - is said to have been used by the porter to look out for stagecoaches and customers so they could be given immediate attention.
Miniature marvels
Used by generations of model plane fans to decorate anything from Spitfires to Boeing 737s, tiny tins of Humbrol paints were manufactured for many years in Hull.
Humbrol, originally known as the Humber Oil Company, was founded in the city in 1919 and initially supplied bicycle oil.
However, in the middle of the 20th Century, plastic model kits by companies such as Airfix became hugely popular.
As a result, the firm began to manufacture "tinlets" of paint designed especially to make these models look as close to the real thing as possible.
What's in a name?
The Land of Green Ginger, at the bottom of Whitefriargate in Hull's Old Town, is undoubtedly one of the UK's strangest street names.
There have been many theories as to the origin of the name but it remains a mystery as none has been proved conclusively.
One idea is that it was named after the Lindegreens, a Dutch family who are believed to have lived there sometime in the 19th Century.
Godber's Gold
Bouncers, written by Hull playwright John Godber, is one of the most frequently performed plays in the English language.
On average, it is performed at least eight times a year by small to mid-scale repertory venues, and is toured at least twice a year by various companies, according to Hull Truck Theatre.
Film founder
The Rank Organisation, which owned five leading film studios including Pinewood Studios, was founded by Hull-born J. Arthur Rank in 1937.
Classic Rank film productions include Brief Encounter, Great Expectations, In Which We Serve and, of course, several of the Carry On series.
Medicine man
In 1856, Thomas James Smith opened a chemist's shop in Hull and established his business selling cod liver oil to hospitals.
Smith and Nephew, now a FTSE 100 company, was formed when he was joined in 1896 by his nephew Horatio Nelson Smith and is now a successful billion-pound global medical devices business.