Hull residents react to City of Culture award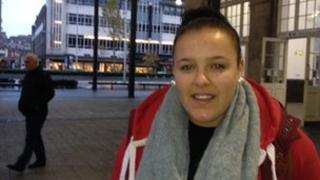 People on the streets of Hull have welcomed the city winning the City of Culture 2017 title.
The UK government chooses a new destination every four years, with the aim of helping tourism and the economy.
Hull beat off competition from bookmakers' favourite Swansea Bay, as well as Dundee and Leicester.
Most people said they hoped the award would help change perceptions of the city, as well as provide an economic boost to the area.
"It's absolutely fabulous," said Catherine Cooper, a credit control officer. "It must boost things around here.
"It will improve things in the city. It is good for jobs and will bring in visitors.
"The city centre has new things like Hull Truck Theatre but it might improve the surrounding areas."
Theatre student Allyah Ndenu described it as "great news".
She said: "My mum and me were talking about it and how much of a difference it will be to the city."
Taxi driver Oliver Burton, who has driven a cab in the city for more than 30 years, was hoping for a direct boost to his income.
"Hopefully, it will put us on the map a little bit," he said.
"As a taxi driver, anything that brings tourists is good for me.
"It will be good for the city, we often get pooh-poohed."
Katy Treadwell came to the city from Birmingham in 1999 to study at the university.
She said: "I was watching the announcement on TV and kept saying 'come on Hull'. I screamed when it got it."
"I love living here, It's a great little city. Hopefully it will get us off the bottom of all the lists."
Darren Griffin, a mature student studying Social Science at Bishop Burton College said he hoped it would " put us on the map".
"Give a buzz for people," he added.
"Get people talking in the pubs and bars and on the buses."
Gary Puckering was made redundant in February and is looking for work as a fork-lift truck driver.
"I hope it will bring more jobs to the city," he said.
"It will get rid of the town's bad reputation"
One dissenting voice came form a taxi driver outside the city's railway station who did not want to give his name.
He said he doubted the winning the title would bring extra visitors to the city.
"I don't think people will come." he said.
"They haven't the money.
"The council is not doing enough."