Inquiry into rejected North Ferriby development begins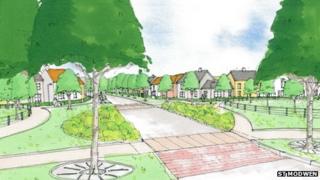 A public inquiry is under way into plans for 510 new homes and a care home on the edge of a Yorkshire village.
More than 1,200 people wrote letters objecting to the plans for North Ferriby.
East Riding of Yorkshire Council refused permission claiming the land had been earmarked for employment rather than residential use.
But developer St Modwen appealed against the decision saying there was a "severe shortage of affordable homes".
The public inquiry is being held by the government's Planning Inspectorate at County Hall, Beverley, and is expected to conclude on 29 November.
It will then make a recommendation to Communities Secretary Eric Pickles, whose department have the final say.
The proposal for the Melton Fields site included up to 510 homes, a 50-bed care home, sheltered housing, retail units and children's play areas, and would have increased the size of North Ferriby by a third.
St Modwen's development manager Richard Bannister said: "We remain convinced that our proposals for a residential development represent the most viable option for this site and for the region as a whole."
In May, the council's planning committee said: "To replace some 35 hectares of an important strategic employment site... with residential dwellings would seriously undermine the competitiveness and economic growth of the East Riding."