Beagle breeding unit at Grimston rejected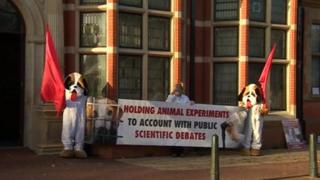 Plans for a beagle breeding facility in East Yorkshire, which would supply dogs for laboratory experiments, have been rejected.
East Riding councillors turned down the plans for the unit at Grimston despite officers recommending approval.
The authority had received more than 6,000 comments, the majority objecting to the scheme on moral grounds.
Site owners B & K Universal had an application for a larger facility refused at a planning appeal last year.
The company already has premises at Grimston but said expanding the site to allow breeding would prevent the need to bring dogs in from abroad.
However, more than 40,000 people from across the country signed an online petition against the proposals.
'Harm village'
One of the organisations behind the petition, The British Union for the Abolition of Vivisection (BUAV), welcomed the council's decision.
Its chief executive officer, Michelle Thew, said: "On behalf of everyone who signed the petition and spoke out against plans for this facility, we thank the East Riding Councillors for everything they have done today for the animals."
People living in Grimston had also expressed concerns about traffic and noise that could be generated by the site.
Cindy de Vries, one resident, said: "I am absolutely delighted for us residents that the quality of our lives won't be further harmed by a larger development."
Councillors agreed the scheme would affect the quality of life in the small village.
B & K Universal said it had addressed the concerns of residents.
In a statement it said: "They have objected to an application that would have reduced traffic in the village and would not have caused additional disturbance.
"Apart from cutting traffic flow and traffic noise, the new build would have safeguarded 40 local jobs, generated ten more and provided much work for East Riding contractors. All that is now at risk."
The company added it would consider whether to appeal against the decision, to submit a new planning application or to move from the area.