Hull's City of Culture bid film revealed to public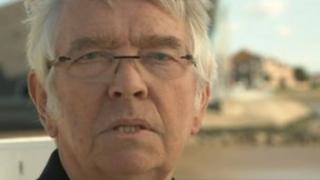 Philip Larkin poetry, the actor Sir Tom Courtenay and hundreds of local people feature in a short film promoting Hull's bid to become the next UK City of Culture.
The video, This City Belongs to Everyone, will be shown to judges at a final presentation in Londonderry, the current City of Culture, on Thursday.
Hull is competing against Swansea Bay, Dundee and Leicester to win the title.
The winner will be announced on 20 November.
'Cry with pride'
The bid is being led by the city council, which has promised to deliver a £15m programme of events in 2017 if it is successful.
The film features shots of Hull's museums, marina and blocks of flats, as well as local people - ranging from schoolchildren to rugby league players - shouting "we are Hull".
Matt Stephenson from Nova Studios, which made the film, said: "What we wanted to do was capture the unique spirit of the city.
"It's a great place to be creative and so we tried to distil the essence of that into the film.
"We wanted to make people cry with pride."
The film has also been screened to the public at Ferens Art Gallery.