Scunthorpe mother convicted of compensation payout thefts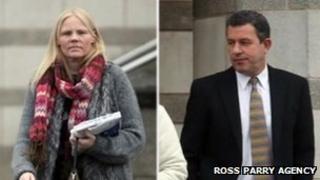 A woman who took money from her brain damaged daughter's £2.6m compensation fund spending it on cars and jewellery, has been convicted of theft.
Cathy Watson, 44, of Heron Gate, Scunthorpe, was found guilty on three counts of theft and one of transferring criminal property.
She was cleared by a jury at Doncaster Crown Court of another count of theft.
Her ex-husband Robert Hills, 49, of Holly Mews, Grimsby, had previously admitted four counts of theft.
During the trial, the court heard how the couple spent large amounts of the compensation money on a luxurious lifestyle including a number of of cars and jewellery.
The compensation had been awarded in 2009 to their daughter Samantha Svendsen, who suffers from cerebral palsy and needs round-the-clock care after suffering brain damage.
During the trial, Hills, giving evidence for the prosecution, admitted the couple had lived "beyond their means".
The jury heard the couple owned nine cars, including a Mercedes and an Audi.
The case has been adjourned by the judge for reports and the pair have been bailed with sentencing to take place on a date to be fixed.