First tenants move into Grimsby's Orchard Drive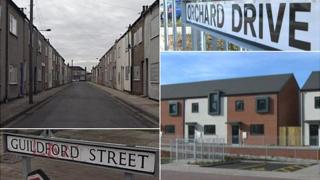 Tenants have begun moving into a street built to replace a road once named one of the most deprived in England.
More than 100 houses on Guildford Street in Grimsby were demolished in 2010 as part of an £8m project to regenerate the East Marsh area.
Affordable homes provider L&H Homes has built 35 two and three-bedroom homes on the road, renamed Orchard Drive, in partnership with the council.
Another 16 houses are due to be completed by February.
The back-to-back terraced houses on Guildford Street were originally built to house fishermen, but fell into decline over the years.
'Lots of crime'
It was named the second most deprived street in the country by the government in 2010.
Orchard Drive is being developed in a partnership between L&H Homes, Lindum Construction and North East Lincolnshire Council.
In August, Liberal Democrat councillor Steve Beasant said he thought the demolition had been a "mistake" despite voting for the plan in 2009, and said the houses could have been refurbished instead.
But Debbie Fagan, head of strategic housing at the council, said a complete rebuild was necessary.
"Guildford Street originally was a very problematic area. The quality of the housing was really poor, people were overcrowded, there was lots of damp, lots of crime," she said.
"There are families moving in [to the new houses], we know the properties are really good quality, we know they are going to be more energy efficient."
Mark Sarjentson moved into Orchard Drive with his family this week, having previously lived in a flat.
"I'm aware of the past of Guildford Street but with all new tenants and new people moving in, it should hopefully be a better area to live in," he said.