Hull sham marriage plotters jailed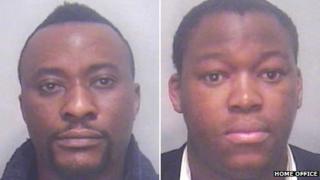 Two men who tried to organise a sham wedding have been jailed.
Abiola Kumoye, 35, and Ayodeji Abbis, 27, helped stage a bogus marriage between Nigerian Jayeola Abiola and Portuguese "bride" Vania Fernandes.
Kumoye, from Manchester, was jailed for 16 months after admitting taking £2,600 to arrange the ceremony last year.
Abbis, from Leeds, admitted receiving £1,000 to pose as the best man and was jailed for eight months. Both men were sentenced at Hull Crown Court.
Abiola, 27, from Hull, and Fernandes, 29, from Manchester, were arrested moments before their ceremony was due to start at Hull Guildhall in November 2012.
The Home Office said immigration staff were alerted by a registrar who became suspicious the couple appeared to know very little about each other during a pre-marriage interview.
Abiola, whose student visa was about to expire, had selected the Celine Dion song 'The First Time Ever I Saw Your Face' to be played at the ceremony.
Mark Bates, from the Home Office, said: "Kumoye and Abbis thought they could profit from abusing the marriage system. They were wrong."
Kumoye and Abbis pleaded guilty to to conspiracy to breach immigration law.
Abiola was jailed for 12 months and Fernandes for eight in July.