Hull's Freedom Festival brings £2m boost to city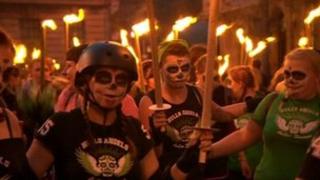 A music and arts festival in Hull saw spending in the city increase by £2m, according to a council report.
The Freedom Festival, held over three days in September, was attended by more than 80,000 people.
The report also claims the city's museums and other attractions saw a growth in visitor numbers.
Hull is one of four cities in the running to be awarded the title of UK City of Culture in 2017. The winner will be announced in November.
The annual festival was established in 2007 as part of commemorations to mark of the 200th anniversary of Hull MP William Wilberforce's change in the law to abolish the slave trade in the British Empire.
Graham Chesters, chair of the Freedom Festival board, said he was encouraged by the response to this year's event.
He said: "I speak for all the organisers when I say that we're enormously encouraged by this feedback and we intend to take on board all comments to drive the festival further still, regardless of what happens next month with the UK City of Culture decision."