Sports club sale blamed on rising energy costs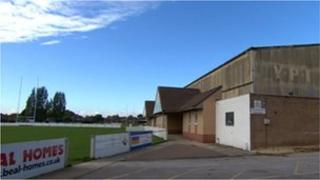 An East Yorkshire sports ground has been put up for sale because rising energy bills are making it unaffordable.
Trustees for the Young People's Institute (YPI) charity in Hull said running costs were unsustainable.
Founded in 1860, the YPI is home to amateur cricket, bowls and tennis clubs and is a training ground for Hull FC and Hull RUFC.
Trustee Geoff Lund said utility bills had gone "way off the scale".
If an investor was not found soon the club could close in months, trustees said.
Kerry Wood, head coach for Hull RUFC, said several of the club's teams used the ground every day.
Tim Lamb of the Sport and Recreation Alliance said: "It would be a great shame if these lynchpins of our community had to close because of rising costs.
"It would be terribly short-sighted of either the government or local authority not to recognise that."
Trustees said the YPI spends £30,000 on electricity alone and energy bills account for half of its running costs.