Grimsby campaign to save town's acute stroke services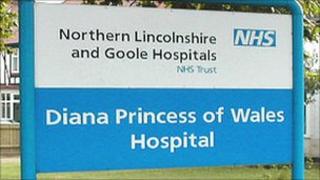 More than 2,000 people have signed a petition against plans to close emergency stroke services at Grimsby's Diana Princess of Wales Hospital.
The NHS trust is moving acute care to Scunthorpe after a government report described the service as "inadequate".
The trust said the change would allow "24/7 hyperacute stroke care" for the first time in the area.
Campaigners against the move said they were concerned about the extra distance patients would have to travel.
The petition's organiser Ray Sutton, from the Grimsby Labour Party, said he wanted more information about the background to the decision.
He said: "We want to see what risk assessment has been done for this temporary move in order to see that it really will not reduce the life chances of somebody having a stroke, say as far away as Mablethorpe, and has to go to Scunthorpe."
'Understand concerns'
Northern Lincolnshire and Goole Hospitals NHS Foundation Trust said they were forced to make the change after a report by Prof Sir Bruce Keogh called for an urgent review of the area's out-of-hours stroke service.
Sir Bruce found that hyperacute care, which covers the first 72 hours of treatment following a stroke, was only available between 08:00 and 20:00 on weekdays at the hospitals in Scunthorpe and Grimsby.
The trust's deputy chief executive and chief operating officer, Angie Smithson, said the move would benefit "most of our local population".
"We understand the concerns voiced by some residents in the Grimsby area about the additional travelling distance that some patients will now need to make.
"We have worked closely with our commissioners and the ambulance providers to ensure patients in North East Lincolnshire and surrounding areas are transported as quickly as possible to the nearest hyperacute stroke service," Ms Smithson said.
The trust said stroke rehabilitation services at Grimsby would remain in place, and they were considering the long-term options for stoke care in the region.