Darryl Stephenson remains Hull City Council chief executive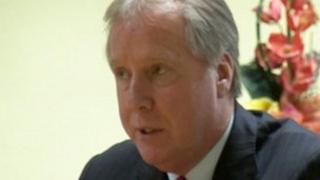 The part-time chief executive of Hull City Council will perform the role for two more years as nobody has been found to do the job full-time.
Darryl Stephenson stepped in after the previous chief executive, Nicola Yates, resigned last year.
Councillors have now agreed that he should continue in the role for two days a week until October 2015.
Mr Stephenson will be paid a salary of £65,000, compared to Ms Yates' full-time salary of £160,000.
The deputy leader of the council, Labour councillor Daren Hale, said Mr Stephenson had overseen some important developments in the city in the past year.
"We've got the A63 [improvements], we're shortlisted for the City of Culture, and we've hopefully got some good news from Siemens around the corner," he said.
The council is waiting for engineering firm Siemens to finalise a deal that will see a £210m wind turbine factory built in Hull, creating hundreds of jobs.
Mr Stephenson was the council's first chief executive in 1996, and remained in post until he retired in 2005.
He was then brought back into the job on a part-time basis when Ms Yates resigned.
The full-time position was advertised earlier this year but no suitable candidate was found.